Brightside ABA Services is affiliated with Sunbeam Developmental Resource Centre (SDRC) in Waterloo Region. Sunbeam Developmental Resource Centre (SDRC) assists individuals with developmental disabilities and their caregivers in evaluating needs and connecting with community services and supports in the Region of Waterloo. Learn more at https://www.sdrc.ca/
SDRC is a department of Sunbeam Community & Developmental Services which offers a wide variety of services and supports to people in our community. Sunbeam Community & Developmental Services has been providing services and supports for 65 years in our community. Learn more at https://sunbeamcommunity.ca/
We're In Kitchener
205 – 1120 Victoria Street North
Kitchener, Ontario N2B 3T2
Tel: (519) 741-1121
Fax: (519) 743-4730
Email Us
Hours of Operation
Monday to Friday:
9:00 a.m. – 4:30 p.m.
Our Philosophy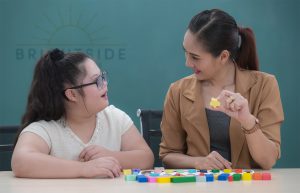 At Brightside ABA Services we know life often comes with challenges. If you have behavioural goals you want to meet – we're the expert team you can rely on. ABA is not diagnosis-dependent and therefore is applicable to many individuals for both skill acquisition and/or behaviour reduction.
We are flexible and will adapt to your needs as a family to facilitate effective services for your child.
Our experienced consultants will help you set realistic, timely, and customized goals. We believe success looks like community – and that starts with family coming together! Parents, caregivers, and youth are encouraged to work together with our team to develop goals and implement behavioural supports. We want you to experience real change that lasts.